I found this meme through Lisa's Chaos, and I thought this was a great idea!
If you want to see more Photo story Friday players, click the links below the image!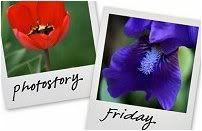 Hosted by Cecily and MamaGeek
On holiday in France we love to go the market
on Sundays in
l'Isle
-
sur
-la-
Sorgue
.
It's almost one o'clock.
The market is coming to an end
and all of the stalls are being taken down again.
Come sit with me in the shade, enjoy a glass of Pastis
( or a Coke if you prefer)
and let's watch this buzzing activity together, shall we?
The lady selling shopping bags and baskets is one of the first to leave the market.
She has packed the rest of her goods on a trolley, and off she goes.
The guy from the flower stand has taken his van out.
Now here's one obviously in a hurry.
The white van tries to maneuver through the narrow streets ...
... and gets pushed back again by another car.
The street musician entertains us with his accordion.
The sacristan locks the church with a huge key.
And the market place is getting emptier ...
Now here is our friend in the the white van again.
This time around the opposite car has to drive backwards!
The flower stand is getting empty too.
All that is left is some very very exhausted sunflowers ...
But they still put them back into the van again!
Still good enough to be sold the next day, are they?
Maneuvering through the narrow streets as precise
as they can to get home as fast as they can for their Sunday lunch!
And all that is left is this ....